A round-up of our work to offer reliable and sound support to those in need
Here is our latest newsletter with all the most up-to-date information on support, advice and services available in the coronavirus outbreak.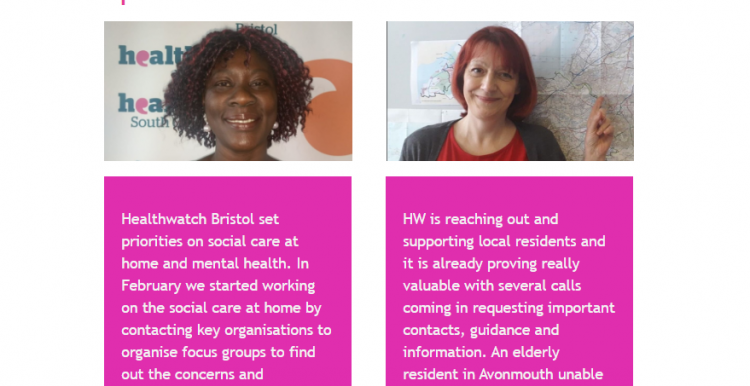 The message is 'stay at home to save lives' but although a simple-sounding and vital one - it can prove tricky to do if you need extra support and are not sure how to find it. Healthwatch is here to help - we are more than ever, working hard to watch over the changing health and social care situation for you, so you can find the right information, support group or service in these every-changing and difficult times.
Our Bristol Area Leads Julie and Acomo have been mapping how services are changing and reorganising so people can find help during these confusing times. See our round up in the newsletter.
Before the rules on social distancing put a temporary halt on our engagement work, Julie had been linking up with a host of local organisations working to bring about exciting and positive changes for Bristol communities. Healthwatch then can gather feedback on health and social care services from all parts of the city and the plan is to further our connections in the future. She has visited, Knowle West Media Centre, Action Greater Bedminster, Bristol Dementia Action Alliance, North West Food Bank and Social Hub and BS3 Community Southville. She also met staff at the Bristol Homeless Project leading to Jasper Thomspon giving us an inspiring interview on his work at this important lifeline in the city for  our new Healthwatch video which you can view on the link below.
Area lead Acomo has been involved in engagement for International Women's Day at Filwood Community Centre as well as setting up focus groups for our projects this year on mental health and social care at home which have now had to be halted until it is safe to start these up again. She is also working on  HW reports following our Enter and View visits at the start of the year. 
Read the newsletter here Newsletter Healthwatch Feb/March 2020