Have your say: discharge from hospital to a nursing or care home
If someone is able to leave hospital but needs further care, they may be discharged to a nursing or care home. If you or a loved one has experienced this, or if you work in the pathway 3 system, please fill in our survey about how the process works.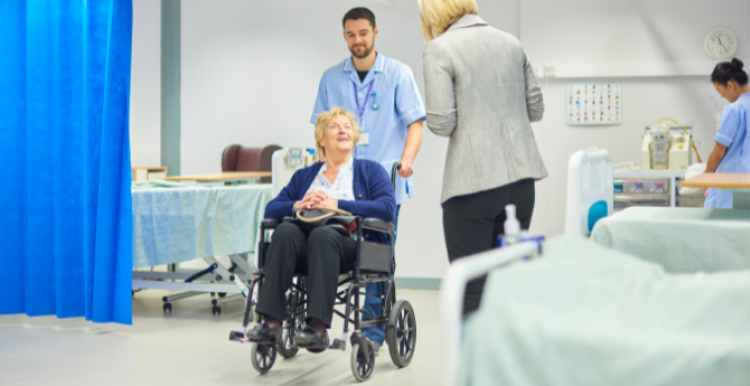 This survey is now closed.
A person is considered 'medically fit for discharge' when they no longer need care in a hospital. However, many people can't return home straight away, and need further care or support in a care or nursing home.
This process is sometimes referred to as 'discharge to assess', 'home first', 'safely home', or 'step down'. There are three discharge to assess 'pathways' - going into a care or nursing home is pathway 3.
Staying in hospital for longer than necessary can have a negative effect on patients. It can limit their mobility and independence, expose them to infections, and cause a decline in their mental health. Discharging people when they're ready also means there are more beds for people who need to be cared for in a hospital setting.
However, it's important to get it right. People who are discharged need to have the right support in place, and the best interests of both the patient and their families need to be taken into consideration.
Being discharged from hospital is a stressful or difficult time for patients and families. It's important that the people who manage this process know what works well for people, to ensure the best possible experience, but also what could be done better, so they can make changes and improve the standard of care for everyone.
We want to find out more about the process of being discharged to a care or nursing home, to find out where the system is working well and where it needs to be improved. We've created three surveys, to give people the opportunity to share their views and experiences with us. We have extended the closing date on the surveys.
If you are a patient who has been discharged from hospital to a care or nursing home, you can fill out our patient survey here: this survey has now closed.
If you are a loved one or carer of someone who has been discharged, you can fill out our friends and family survey here: this survey has now closed.
If you work with people who are discharged through the pathway 3 model, you can fill out our professionals survey here: this survey has now closed.
Privacy
We understand that patient care is a sensitive topic, both for patients and people who work for the NHS. The surveys are anonymous and confidential. Comments will be passed on to people who manage NHS services, but we will not include any information that could make it possible for someone to identify you.
At the end of the survey, there is an option to provide your email address, if you would like to take part in a follow-up interview. This is optional, and you can fill out the survey without providing us with your contact details.
We also ask some general questions about you, such as your age, gender, and ethnicity. We use the answers to these questions to find out if the feedback we collect is representative of the make-up of Bristol's population. We can't use your answers to these questions to identify you.
If you would like to find out more about why we ask these questions, you can read our article about collecting demographic information here. You can also take a look at our privacy policy here.