Bristol Annual Report 2018/2019
During 2018/2019 our work included a year-long study of emotional health and wellbeing in the city of Bristol and we worked with 300 medical students looking at the 3Ds - disability, disadvantage and discrimination.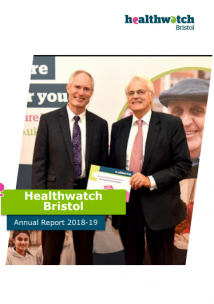 Key Points
We raised concerns about a lack of gluten free prescriptions for coeliacs with the Clinical Commissioning Group.
People with mobility issues were asking for help with prescription delivery and being refused access until Healthwatch intervened.
We learned that BAME women in Bristol are not attending their mammograms and breast screening as often as their Caucasian sisters and hosted an event to find out why.