Read how people who need care at home were affected by pandemic
Lu, who suffers from chronic condition fibromyalgia, tells us how her family stepped up to look after her when she suffered a distressing fall and how she struggled to get help for severe shoulder pain.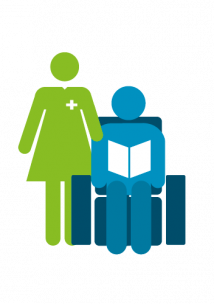 Healthwatch carried out a survey of how people who need care at home coped during this difficult period - whether they had struggled to access services to meet their needs and whether it became more difficult to get the right help and care.
The hidden disability
Lu, from north Bristol, said told us she owed everything to her family who helped her through some dark days (children are registered carers) when she was in constant pain and could barely walk. When she had the added complication of acute shoulder pain however she felt, due to her condition, this wasn't examined properly by doctors who instead concluded it was another symptom of fibromyalgia. She also struggled to get a new supply of pain medication which, however, was eventually re-prescribed.
Lu said: "If you have a chronic condition I feel you have been forgotten. I have had to put up with a lot of pain for what is potentially a dislocated shoulder and I have not been seen for an x-ray. I have heard other similar stories from people like myself with these conditions. However if someone, for instance, had something new or different happen to them I've no doubt at all the NHS would be amazing."
Mental health
Lu also told us her mental health suffered as a result as there were no groups she could go to where she could talk about her difficulties and fears.
She said: "I managed to keep up-to-date on the internet but more groups to help Fibromyalgia sufferers would have helped me to cope better."
Our care at home survey's quick turnaround captured some key insights. We recommend that staff continuity, links to social prescribers and internet connectivity would support individuals' mental health. We found this had been impacted by missing day care outings, being isolated and not seeing staff they knew and trusted. For the vast majority of the people we heard from, their friends and family stepped up, but these informal carers did not receive any support themselves and are owed a debt of gratitude.
Our Healthwatch volunteer, Debbie James, who also suffers from fibromyalgia told us: "It can be a disabling condition and people don't realise this. At my worst, a few years ago I would have classed myself as being disabled. I was told by doctors to apply for a Blue Badge for my car."