Report: how has the COVID-19 pandemic affected people's experiences of bladder and bowel services?
Our collaborative research with Bristol Health Partners' Bladder and Bowel CONfidence Health Integration Team (BABCON HIT) found that one in three people who use bladder and bowel services had been affected by changes to these services during COVID.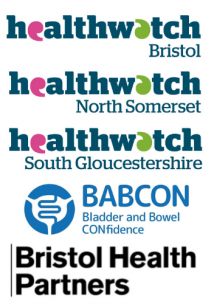 In the UK, over 14 million people experience bladder control problems and 6.5 million have bowel control difficulties. Together with BABCON HIT, we created a survey that was shared across Bristol, North Somerset, and South Gloucestershire in the autumn of 2020, in order to explore the impact of the pandemic on people who currently use, or would like to be involved with, NHS bladder and bowel services. In total, we heard from 42 people.
Changes seen in bladder and bowel services during the pandemic included having telephone rather than face-to-face appointments, delayed referrals and tests, and waiting longer for surgery.
Overall, we found that there had been a negative impact on service users as a result of changes made to services during the pandemic. For instance, 18 people reported that they had appointments cancelled, and only eight said they had received an explanation regarding the changes.
Key findings
1 in 3 reported their bladder or bowel health had been affected due to service changes.
Separately, 1 in 3 reported that their mental health had been affected by the changes to bladder and bowel service provision during the pandemic.
Almost half (17) of the respondents reported a switch to telephone appointments instead of face-to-face appointments.
7 respondents said they had been unable to have an assessment during the pandemic.
12 respondents reported a delay to their referral or required clinical tests.
14 respondents reported that they receive support from family and friends specifically for their bladder or bowel symptoms. Half of these respondents said their requirement for support had increased during the pandemic. All of these individuals reported that their family or friend providing this care received no support for this role.
71% (29 respondents) reported that they were affected by reduced access to public toilets during the pandemic. Many people who experience bladder and bowel issues rely on public toilets in order to be able to carry out daily activities and spend time away from home.
Based on what we found and the experiences we heard, we are recommending that the communication between specialist services, GPs, and other healthcare settings is reviewed, to ensure current information about support is available for patients.
Going forward, patients and carers should be offered both face-to-face and remote appointments, depending on their preference and needs. More research is needed on the impact of service changes on carers for people with bladder and bowel issues, and on the influence of toilet accessibility.
You can download our full report below. If you require this information in an alternative format, please email helen@healthwatchbnssg.co.uk.
If you experience bladder or bowel leakage, you're not alone and there are things you can do to try to improve your symptoms. Even occasional leakage should not be ignored.
BABCON HIT team have created a free app called CONfidence, which brings together trusted and reliable information, informed by national experts providing specialist bladder and bowel care.
Click here to visit the Bristol Health Partner's website and find out how to download the CONfidence app.
If you would like to share your experience of bladder and bowel services with us, click the pink 'Talk to us' button below.