Report: hospital discharge to ongoing care
We've collated the experiences of 141 patients, families, carers, and NHS staff involved with the hospital discharge process. More than 75% of respondents said they felt delays in admission or discharge had a negative psychological effect.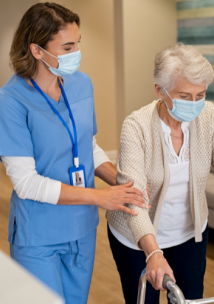 The transition from one care location to another was the biggest area of concern. We heard stories of delays, poor information, and distress. 
We looked specifically at the Pathway 3 route. People on Pathway 3 are medically fit to be discharged from hospital but require additional or ongoing support. This is typically provided in a care or nursing home.
The care was good but there were no conversations, phone calls or contact to the family to discuss or inform us, there were no care team meetings or conversations about changes or expectations.
While comments about staff were overwhelmingly positive, more than 40% of staff said they sometimes felt that pressure to reduce the length of a patient's stay impacted upon the quality of care they were able to provide.  
Our recommendations include involving social workers as part of the internal hospital process to enable alternative pathways to be evaluated fully prior to a Pathway 3 decision. Patients and carers must be provided with a single point of contact to speak to, and accessible communication resources such as interpreters must be available.
We will work with community health and Local Authority partners to implement improvements consistently across BNSSG and invite the Healthwatch Team to revisit and review the Pathway 3 experience again later this year to evidence these improvements.
Vicky Marriott, Healthwatch BNSSG Area Manager, said: "we are so pleased for patients and families that these issues are being recognised by the range of services involved. The findings have helped the University Hospitals Bristol and Weston Trust to bringing on a new workstream, 'Every Minute Matters', to improve patient discharge communication."
Charting the experiences of people being discharged from hospital on the Pathway 3 route
Want to share your or a loved one's experience about hospital discharge? Click the pink 'Talk to us' button below.